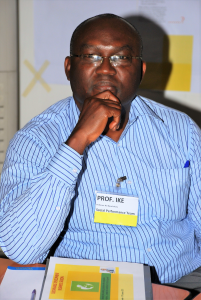 Professor Ike Nwachukwu
Michael Opara University of Agriculture
Umudike, Abia State
Ike Nwachukwu is a Professor of Agricultural Extension and Rural Sociology at the Michael Okpara University of Agriculture, Umudike, Abia State. He obtained his Master's degree in Agricultural Communication and Doctorate degrees in Agricultural Extension, both from the Obafemi Awolowo University, Ile Ife.
Ike Nwachukwu started his career at the National Cereals Research Institute, where he rose to the rank of Assistant Chief Research Officer. In 2001 he moved to the University of Agriculture, Umudike.
Prof. Nwachukwu's major areas of specialization are agricultural communication, development studies and gender issues. In these areas, he has published extensively both locally and internationally. He has written and co-written ten books in agricultural extension and rural development. He has produced 25 Ph.D students and many Master's degree graduates.
He is the President of the Society for Community and Communication Development Research . He is also the Editor in Chief of the Journal for Community and Communication Research .
Ike Nwachukwu has travelled extensively in the pursuit of career excellence. Between 2005 and 2006, he was a Research Fellow at the prestigious University of Glasgow in the United Kingdom. From 2012-2013, he was Research Adviser at the Shell Petroleum Development Company, Port Harcourt. Prof Ike is a member of many professional associations, some of which are; the Agricultural Extension transformation Agenda of the Federal Government, Abia State Cassava Transformation Agenda, Agricultural Extension Society of Nigeria and the Nigerian Forum for Agricultural Advisory Services
Ike is married to Prof. Olayinka Nwachukwu and they have three daughters.