AFAAS is holding its Internal Review, Planning and Capacity Building with CFS and RFS, at Ibis Styles, Nairobi, 11-15 April 2022The meeting is to review and plan the activities under the Comprehensive Africa Agriculture Development Programme X-Pillar 4 (CAADP-XP4) Project, which is being implemented by AFAAS, FARA, the Association for Strengthening Agricultural Research in Eastern and Southern Africa (ASARECA), the Centre for Coordination of Agricultural Research and Development for Southern Africa (CCARDESA), and the West and Central African Council for Agricultural Research and Development (CORAF).
It is noteworthy that AFAAS is currently implementing the CAADP XP4 project in 11 countries of Cameroon, Ethiopia, Ghana, Kenya, Madagascar, Mali, Malawi, Liberia, Nigeria, South Africa and Uganda. The project Mid-term review will be conducted in May 2022.
AFAAS has also developed the Gender Mainstreaming Strategy 2015-2019 to support the processes of promoting gender equality in AEAS provision on the continent, to strengthen the integration of a gender perspective in agricultural extension and advisory services provision at institutional and individual levels.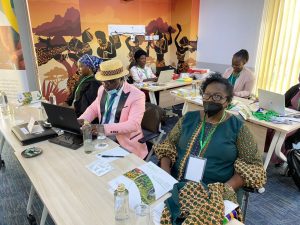 In order to appraise the project achievements status, document lessons learnt and plan for the subsequent activities before the Mid-Term Review in May 2022, AFAAS has organized this internal review and planning workshop for its staff, implementing CFs and the country's Gender Working Group. NIFAAS is well represented at the meeting.
#AFAASCAADPXP4Review2022