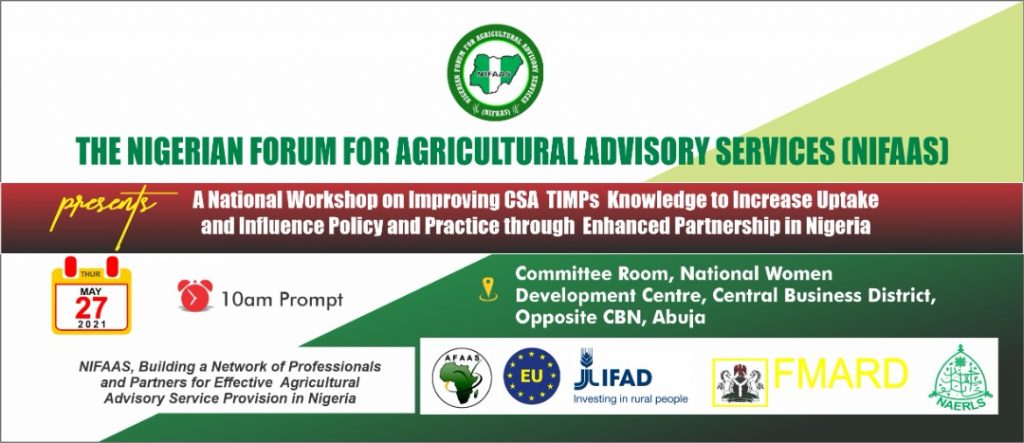 NIFAAS has organized a National Workshop on "Strengthening Climate Smart Agriculture (CSA) Technologies, Innovations and Management Practices (TIMPs) Knowledge and Uptake to Influence Policy and Practice through Enhanced Partnership Among Key Stakeholders in Nigeria" for a selected stakeholders in Abuja (lead farmers organisations, policymakers, FMARD, NiMet and NIFAAS members within Abuja metropolis). The workshop is facilitated by AFAAS under the Comprehensive African Agriculture Development Programme Ex-pillar 4 (CAADP-XP4). The workshop is to be chaired by the NIFAAS BoT Chair, Dr. Ernest Afolabi Umakhihe, who is also the Permanent Secretary, FMARD, Abuja. Special guests include the ED of AFAAS, Senators, honourable members of the House of Assembly, FDAE Director, ED of NAERLS, and delegates from NiMet.
The main objective of the workshop is the Strengthening of partnership among key stakeholders in AEAs for improved CSA TIMPs uptake. The workshop is scheduled to hold as follows:
Date: Thursday, 27th May 2021
Venue: Committee Room, National Women Development Centre, Central Business Disrtict, Opposite CBN Abuja.
Time: 10am Prompt
The workshop was an hybrid of physical and virtual participation through ZOOM. LINK to Virtual Participation was shared widely online and across networks.
It was the culminating exercise for the 8 countrywide workshops held in different geopolitical zones of Nigeria. The workshop Materials/ Reports can be accessed through the following LINKS:
1. Introductory workshop in Ibadan on 26-28 January 2021
4. South-south Zonal CSA Report