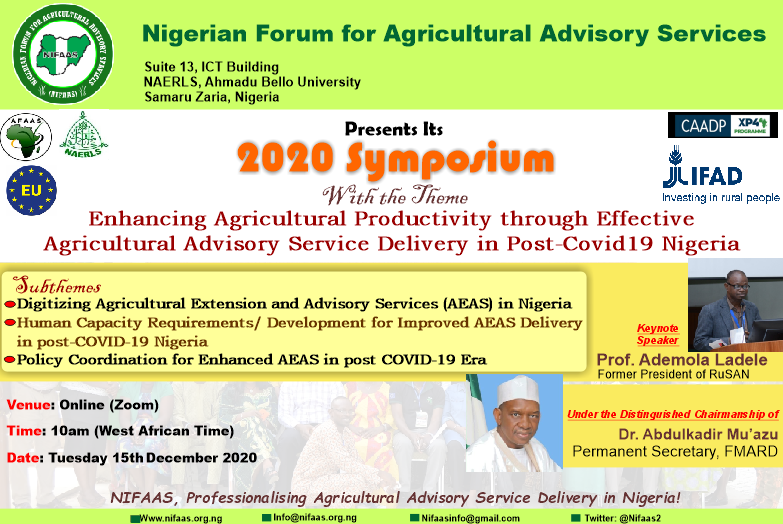 The Nigerian Forum for Agricultural Advisory Services (NIFAAS) is holding its 2020 Symposium on Tuesday 15th December 2020. The Theme of the event is: "Enhancing Agricultural Productivity Through Effective Agricultural Advisory Service Delivery in Post Covid 19 Nigeria."
The programme is to be held virtually, on Zoom application.
The Keynote Address will be delivered by Professor Ademola Ladele, while the programme will be chaired by Dr Muazu Abdulkadir, the Permanent Secretary at the Federal Ministry of Agriculture and Rural Development.
Other presenters are:
• Dr Ifejika Philip of NIFFRI, New Bussa: Digitising Agric Advisory Services in Nigeria
• Pro. Meuludu, Nnamdi Azikiwe University, Anambria State: Human Capacity Building for Improved AEAS Delivery in Post-Covid 19 Nigeria
• Prof. MK Yahaya, University of Ibadan: Coordinating Policy Advocacy for Effective Extension Delivery
• Prof. CK Daudu, NAERLS ABU Zaria: Grassroots Extension Options: An Overview of the CBA Approach in Nigeria
• Ohiomoba Ifidon S., formerly of FDAE, Abuja: Understanding Policy Coordination for Enhanced Agric Advisory Services in Post Covid-19 Nigeria