On Wednesday 14 June 2017, the Executive Committee of NIFAAS paid the new Permanent Secretary (PS), Federal Ministry of Agriculture and Rural Development, Abuja, Dr Bukar Hassan. The delegation was led by the NIFAAS vice president (north), Professor Dele Tologbonse, who represented the president and country focal person, Professor Tunji Arokoyo. Other members of the delegation were Professor Ike Nwachukwu (vice president, south), Professor Bolaji Adeniji (secretary general), Professor Olusegun Apantaku (PRO), Dr. Margret Koyenikan (treasure), among others. Also present was Mrs Karima Babangida, Director of Women and Youth Empowerment, Federal Department of Agricultural Extension.
It is noteworthy that NIFAAS, by constitution and operational modalities and for the purpose of continuity, retains the position of its chairman, Board of Trustees to whoever is the Permanent Secretary of the ministry. The PM, who was recently deployed from the Ministry of Agriculture from the Federal Ministry of Environment, warmly received the delegation and commended the activities of NIFAAS and its mother organization, the African Forum for Agricultural Advisory Services (AFAAS). NIFAAS visit was to brief him on its activities, as well as to present to him the certificate of BOT Chair.
The PS remarked that agricultural advisory service provision is critical to national economic growth, especially in Nigeria, where economic recession is biting hard at the people in the grassroots. Then he added, "We all know that agricultural productivity in this country or elsewhere cannot succeed without advisory services. In fact, their services are critical to economic growth, because there is a yawning gap between research and real agricultural activities. This is filled by adequate advisory service provision, as is done by NIFAAS in Nigeria, and of course, AFAAS all over Africa… I am highly pleased to learn that this office is honoured with the position of BOT Chairman. I commend NIFAAS for this and must say that it is strategic to government's desire to permanently strengthen agricultural productivity in this country… I promise you that we would see to it that NIFAAS oversee how agriculture becomes a major enterprise in this nation, viable and highly competitive in all ramifications…" he added.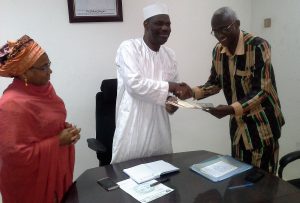 The delegation thereafter congratulated the PS for his appointment /deployment to FMARD and appreciated him for the audience given to the executive committee. They then presented to him his membership certificate, a copy of NIFAAS certificate of registration with the Corporate Affairs Commission, and the Special Control Unit Against Money Laundering (SCUML) certificate, as well as other materials and publications.