… As African Scientists Meet in IITA Nigeria to Strategise against the Challenges of Stresses on Maize in the West African Region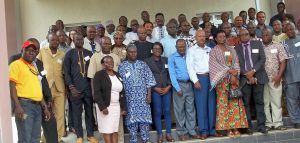 A foremost maize breeder at the International Institute for Tropical Agriculture (IITA) Ibadan, Dr Badu Apraku, has stated that research and extension are the twin critical tool for boosting maize productivity and farmers' income in the West African subregion. He said this during his opening remarks at the annual review and planning meeting of the Stress-Tolerant Maize for Africa (STMA) Project, from 2nd to 5th May 2017 at IITA Ibadan.
The meeting is the gathering of scientists, extension organizations, seed companies and policy makers from Benin, Ghana, Mali and Nigeria, where issues on how to boost maize productivity in the region are discussed. It is an annual event where the 2016 activities of STMA Project are reviewed and the 2017 work plans for each country are deliberated upon. Dr Apraku is the West African regional coordinator of the project. Also present at the meeting was Dr Tsedeke Abate of CYMMIT, the International coordinator of STMA Project; and Dr A. Menkir and Dr T. Abdoulaye of IITA.